Faith News
Here's what's happening at Faith Church! Click the "+" to see more.

If you have an announcement you'd like to see here, contact the church office.
Read All About It!
The regular meeting of the Guild will be held tomorrow
September 24th
.
The meeting will be held at the home of Edna Bicehouse at noon. Those attending should bring a "Bag Lunch".
Coffee and Ice tea will be provided. It would be best if those driving "Car Pool" as parking is limited.
The PCC Open and Affirming Ministry Webinar is at 7 pm (Eastern)
Tuesday, Sept. 25
. The date was incorrect in RIPPLES last week and on our website. Apologies!
Why attend ONA 201?
Many ONA churches want to find new ways to communicate their ONA commitment to their community. And many churches recognize that without active engagement with their LGBTQ neighbors, they will remain "invisible," not only to LGBTQ seekers, but to the growing number of straight Millennials who identify with the values a visible, public ONA commitment represents.
This webinar shares the best practices of growing ONA churches, including marketing, display advertising, mission, ministry, and advocacy.
Not-yet ONA churches that want to learn how their future ONA covenant can make a difference in their communities will also benefit from this webinar.
The Women's Guild is again selling nuts as a fundraiser.
To lighten the load for those doing the work, we are asking you to pre-order your nuts. Order forms will be in your bulletins on September Sundays or you can call or e-mail the church office.
Order by
September 30
for delivery in early November to get good, fresh nuts for your gift-giving or baking.
Hurricane Florence has directly devastated a large swath of both the Carolinas and has caused extensive flooding along the Eastern US. Even here in PA: water levels broke the records set in the wake of Hurricane Agnes in 1972 all across the state.
Thank you to all who have expressed great compassion in wanting to provide relief aid.
Here are a few ways you can help:
PRAY
- Please keep the victims, families, leaders and responders in your prayers.
MAKE A DONATION
- As always, our UCC response has been quick and will be on-going.
There are no administrative fees
-- 100% of funds designated for disaster relief to the United Church of Christ are used for disaster relief and rehabilitation programming.
This link is to the
UCC donation page
.
VOLUNTEER
- A list of volunteer opportunities can be found
here
.
PURCHASE CLEAN UP KITS
- You can assist hurricane and other disaster relief efforts by pre-assembling various kits that are warehoused by CWS, ready to be shipped at a moment's notice when the need arises.
There are still matching grants available!
Thank you for your abundant generosity!
Please contact the office if you can provide breads or juices--we're looking to have something to represent each continent.
Fellowship-Cider Pressing Outing on Sunday,
October 7
The
COOLEST
fundraiser ever comes to State College ...and we need your help to make it EPIC.
We're rappelling off a 12-story building in downtown State College to raise $80,000 to help low-income families in Centre County.
And we won't get there without you. We need your support!
What can you do?
Go Over The Edge
: Are you a thrill-seeker? No rappelling OR fundraising experience needed! We have about 20 spots left for Brave Souls to rappel on
October 11
. Click
here
to email Viki to sign up!
Support an Edger
: If you go to our event page and scroll to the bottom, you'll see a list of all the people signed up to rappel. Anyone who is not at $1000 in donations might not get to go without your support. Click on their name and make a donation--every dollar helps!
Volunteer
: Want to help on the day of the event? We've got lots of opportunities, and it promises to be a fun day! Click
here
to email Wendy Vinhage for more information about how you can help.
Spread the word
: Click
here
to go to our Facebook page and share the events and posts there about Over The Edge. Tweet it. Know someone in the media or the press? Tell them you've got a story for them! Know someone who would be a great rappeller? Send 'em our way!
Let us know if you'd like a flyer
to post at work, your gym, your faith community, your grocery store--we'll send one your way.
WITH YOUR HELP, our Over The Edge event will help many, many of our neighbors all over Centre County take the next step toward safety, stability and self-reliance.
Please help us today!
Thanks,
Viki Stumbers
Development and Program Coordinator
Coordinator, Centre County Fuel Bank
Interfaith Human Services
251 Easterly Parkway, Suite 200
State College, PA 16801
P: 814-234-7731
Over The Edge
website.
Attend an EnergyStar for Congregations workshop.
The resources available on the event pages (links below) will give you a glimpse of how powerful these programs can be in measuring and reducing our energy use.
Jerry Lawson, who leads this program nationally and has presented at IPL leadership conferences, also heads up the Small Business program —so encourage faith community members who are also business owners to come.
RSVPs appreciated.
September 25
Akron
,
Bedford
.,
Pittsburgh
,
September 26
Meadville
,
State College
,
Harrisburg
September 27
Media
Speak out in support of the existing Clean Cars standards (including the CAFÉ standards).
Existing standards were set to automatically increase on a pre-decided schedule. These fuel economy standards were developed collaboratively with automotive companies, were vetted by a robust slate of stakeholder input before going into effect. The EPA and NHTSA are asking stakeholders (that includes you!) whether they should roll back the new standards with weaker and delayed replacements.
This is a climate change issue because car, truck and bus emissions are an enormous source of climate-changing emissions. Tailpipes are also the source of bad-to-breathe emissions, including some worsened by hot days. These impacts disproportionately affect low-income, black and brown communities. Perhaps counterintuitively, the standards are also important because of the burden of fuel costs for low-income households. More rigorous "fleet emissions standards" drive the manufacturing of more high-efficiency vehicles, dropping their purchase price. Nearly every state (PA included!) manufactures items that are part of the supply chain for higher-efficiency vehicles.
Register today
to speak in person in Pittsburgh on
Wednesday, September 26
, or
submit written testimony
by
October 23
. As always, please share your faith-rooted testimony with us.
Hone your moral and ethical calls for action at our Sustained Advocacy Workshop in greater Philadelphia on
October 13th
.
How do we build relationships with elected leaders and address them on the basis of shared morality and integrity?
Join us for a day-long training led by the Rev. Alison Cornish, executive director of Pennsylvania Interfaith Power & Light (PA IPL), and Justin Wright, mediator and negotiation trainer for Active Neutrals. Our goal is to equip you to speak out to elected and public officials while building relationships of mutual respect and influence.
Join us at our 2018 Annual Conference
Facing the Climate Crisis: Called to Save our Sacred Home
on
October 27th
.
Our conference this year connects deeply to the Pittsburgh region, taking place on the 70th anniversary of the day the
Donora Smog
began — a deadly event which led the country to implement clean air laws. Our speakers and workshop leaders draw on wisdom deeply rooted in this history, and highlight some of the powerful work being done here, now.
There are too many wonderful details to share here — click through to learn more, get linked up with all kinds of publicity to share in all kinds of place, and register.
Pre-registration saves. Group pre-registration saves more! Scholarships available
.
In a landmark case called Juliana v. U.S., twenty-one courageous youth have filed a lawsuit against the United States government for its role in causing climate change and violating their rights to life, liberty, and property, while also failing to protect essential public resources. The youth range in age from 10 to 21, and their voices provoke a moment of moral reckoning for our nation. Their day in court is coming, and now is the time for people of faith and conscience to speak out in solidarity. Follow their story -
Our Children's Trust
If you would like to become a member of Faith UCC, or you simply want to learn more about our UCC identity, please let Pastor Bret know of your interest so that a two-session class may be started at times you may attend. You may
email him
, or
call (814) 237-3904
.
Faith UCC welcomes college students to join us in worship and fellowhip, and we would
love
to be your church away from home!
Our church is conveniently located directly across from the Penn State campus, and our weekly Sunday worship services are at 10:45 AM during fall and spring semesters. Come as you are, and please join us for refreshments immediately following the service.
We are a long-established, Open and Affirming, inclusive faith community. Students are welcome to join us in other church activities such as: the church choir, participating in and teaching Sunday School classes, food and fellowship, annual CROP and AIDS walks, mission trips, and service projects.
The Sacrament of Holy Communion, or the Lord's Supper, is usually celebrated on the first Sunday of each month as well as on special days of the church year. All Christians are invited to share the bread and the cup from our Lord's table.
If you have any questions, please feel free to contact us by email at
faithucc@comcast.net
.
Choir Rehearsals are Thursday Evenings @ 7pm
September 6, 13, 20, & 27
The Forum group will be using the Great Books series on the History of Christianity this fall beginning on
September 9
.
Join us at 9:30 on Sunday mornings in the Library (on the second floor) for a short DVD presentation followed by discussion on what we have seen.
This is a good place to get to know those who join you In worship and to enjoy a lively discussion while you learn about our heritage.
The Search and Call Committee is meeting regularly to advance the search for our Settled Pastor.
We continue to receive new profiles of interested candidates. The committee is working faithfully together as we review and discern those we feel called to further investigate.
We appreciate your continued prayers for our work on this search.
CROP Walk-Sunday, October 14
Faith UCC Photo Christmas cards available for purchase—more details coming soon
SERRV Sale of International Handcrafts and Fair Trade Foods—November 29-December 16
Here's what's happening:
September
26: Harvest Festival/Messy Church with Macneal Orchards. Make apple pies and cider, celebrate God's gifts! St. Peter's Lutheran (jointly hosted by them and St. Peter's UCC and Christ UCC) Rebersburg 6-8. Includes a meal. Bring a canned food item for local food pantries.
30: Money Matters: seminar for those who manage church money. Hayshire UCC in York PA 3-5 PM.
October
6: Sky Family Celtic Revival at Trinity UCC in Centre Hall, 6:00 PM. Free, but an offering will be taken up.
6: Healthy Church Workshop, First UCC, Carlisle 9:30 AM – 2 PM - $5

13: Hartman Center Fall Festival, Hartman Center, Milroy PA, Jerry Zoltan and Richard Sleigh, and the Tussey Mountain Moonshiners performing. 10 AM – 3 PM.

20: Lay Boundary Training – Middleburg UCC 10 AM to 3 PM - $15
November
10: Fall Fair, Children's Carnival and Yard Sale. St. Luke's Lock Haven 9 AM – 2 PM.

12: Boundary Training – Educating Educators – Trinity UCC, Dalmatia, 9:30 AM – noon, $10.

14: Mission Insite – Demographics for Lay and Clergy – St Thomas UCC, Harrisburg. 1 - 4 PM

16-18: Youth Retreat at Hartman Center. Escape Room! Grades 7-12 $95. See your pastor for registration info.

16-18: Women's Retreat at Hartman Center. Tie-dyed Faith – Revealing Your God Colors Room! $125 includes all materials. See your pastor for registration info.
Ohio State Sep 29, 7:30pm
Michigan State Oct 13, Time TBA
Iowa, Oct 27, Time TBA
Wisconsin, Nov 10, Time TBA
Maryland, Nov 24, Time TBA
Week 6 events and activities include
our weekly book discussion around Parker Palmer's "Let Your Life Speak" on
Tuesday
at 12:15pm,
and a collaborative dinner and movie night on
Wednesday
at 7pm at Houseasaurus.
We also encourage you to join the weekly Standing at the Gates for Justice vigil on
Monday
at 4pm,
and the monthly Community & Campus in Unity meeting at the Borough Building on
Monday
at 5pm.
Campus Pastor Ben Wideman
We continue to look beyond University Mennonite Church to support the work of 3rd Way Collective in this coming 2018-19 school year. Individuals or organizations can pledge at
https://goo.gl/forms/26MoknwxgXdVTagk1
For our full schedule and to find out how to support this ministry please visit
3rdWayCollective.org
or contact
ben@3rdwaycollective.org
A reflection is posted each month at
http://www.3rdwaycollective.org/category/blog/
Here are links to daily readings from:

the UCC online Devotional,

and the Revised Common Lectionary

At the Annual Meeting, the vote on the Plastic Foam Resolution was adopted. The resolution on plastic foam states,
"Penn Central Conference of the United Church of Christ encourages all congregations to avoid the used of plastic foam in food packaging and other activities within their church facilities. Be it further resolved that congregations educate their members about plastic foam and that they encourage them to use alternatives such as paper products of better yet, ceramic or other dishwasher safe products."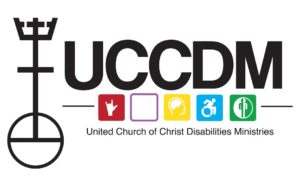 The newly reorganized Disabilities Ministries Team is proud to share that we have received a $1,000 grant from UCC Disabilities Ministries Board (UCCDM) to help us expand our work of disability justice and inclusion within Penn Central Conference. Stay tuned for information on a series of workshops throughout the conference on the national Accessible 2 All (A2A) Designation and the background of the work of disabilities ministries.